Welcome to Britt5091: Origins, where I dig up old blog posts I used to write for IGN's community under the username Britt5091. Some posts may make you giggle, some may make your eyes bleed, and some may make you stroke your beard in a pensive manner. All you need to know is that these posts, no matter how terrible some of them may be, ultimately lead to everything I do now.
My little black book
September 14th, 2009
You know the drill. You're kind of in a funk. Sure, you're having a great time with your current 'fling', but you know it's bound to come to an end. So when it does (and you know it will) you're left with only memories, but in a way you're quite relieved. Why? Because you never could quite get your mind off that certain something while you were supposed to be having a great time with your 'latest and greatest'.
This happens quite a bit to me. And when it does, I like to break open my little black book.
Let me clarify: My little black book of GAMING, that is. After all, this is what this post is about.
My little black book contains only my favorite games such as Super Mario RPG, Ocarina of Time, Final Fantasy IX, EarthBound, Harvest Moon, Resident Evil: CVX, Skies of Arcadia, Half-Life, Twisted Metal 2.
But no other game has been used and abused as much as this one.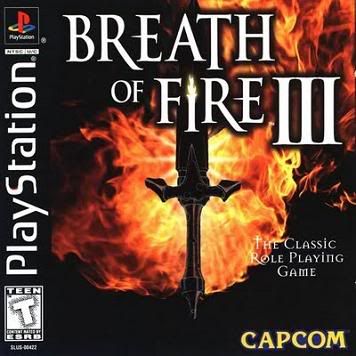 Breath of Fire 3 was one of my first RPGs and wowed me with its characters, story, and side quests. Undoubtedly it was one of the best RPGs for its time and to this day, remains in my top 5. The fishing minigame, in my opinion, has yet to be topped in any other RPG, not to mention the bunch of characters in BOF3 are my favorite besides Final Fantasy IX. Oh yeah and the story is excellent.
I cannot count how many times, in the middle of whatever game, my cravings for Breath of Fire 3 have gotten the best of me. The most recent occurrence was during Dead Space. Mid-game, I turned the Necromorph slaughterhouse off, played a few hours of Breath of Fire 3 from a random save file, got my fix and was done with it. Stored it away till next time.
Simply put, Breath of Fire 3 is my number 1 call girl…er, boy.
Mass Effect better watch itself.
Deny it all you want, but I know ALL of you have a little gaming black book out there.
What's your number one game you just can't get enough of?
_____________________________________________________________________________________________________
Update
May 18th, 2012
Reading this makes me want to play Breath of Fire III SO HARD. I wasn't kidding when I said no other game has been used or abused as much. I have memory cards dedicated to random save files, I bought the game for my PSP (which I want to say shipped from Europe) aaaaaand…holy hell I want to play Breath of Fire III right now. 
Harvest Moon is still an abused game, too. On most of my flights to game conventions and whatnot I'll bring my PSP and juggle between the two games. 
Mmmm. I love that little black book. <3.